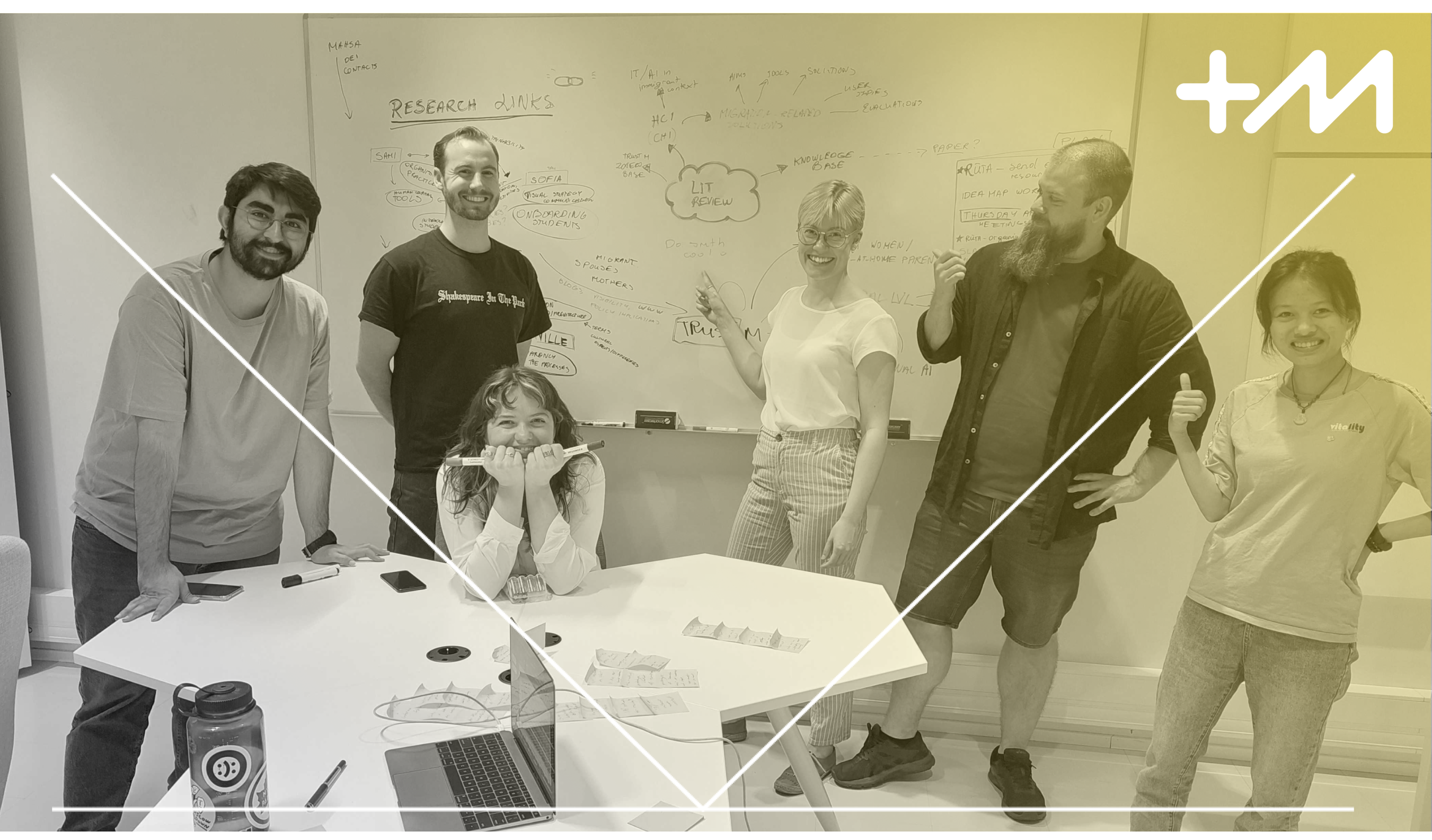 Summer Design Studio: Helping Migrants Navigate Public Services in Finland
By Sofia Kasari – Design Researcher at Trust-M
Finnish municipalities will soon be facing a new challenge: a new law coming into effect in 2025 will require them to provide a free-form document stating all immigrant services that they provide. I joined Trust-M with an objective of helping immigrants to make sense of the Finnish service ecosystem. With my teammates, we wanted to take this as an opportunity to envision something completely new: in the summer of 2023, we conducted design research and came up with two concept ideas that provide clear information, step-by-step guidance and a sense of direction in the bureaucratic jungle.
When immigrants arrive in Finland with the intention of settling here, they are faced with a plethora of obstacles: the local language is difficult, there is a lot of physical and virtual paperwork to be filled in many different places and finding a job that corresponds to one's skills is definitely not a given. While looking into the things that could help, we noticed that the problems are complex and multidimensional. We found ourselves asking the question: Where should we even start?
While it was not possible to address all problems at once or change structural issues, we decided to focus on something that we do have influence over: communication. In a nutshell, our main goal was to understand the information needs of immigrants as well as the main barriers hampering their integration into the society. In just two months, we looked into the possibilities of new technologies and visualisation techniques for complex information, browsed and compiled academic literature and conducted several workshops and data analysis. Based on the combined insights of our research, we derived two design concepts that could potentially tackle the problem in a new way.
---
Finland – A Walk in a Park
No more confusion: Navigating Finnish public services could be made a lot easier for the user by providing structure and prioritisation. Our first concept is a relaxing virtual world that helps migrants to navigate the integration process by breaking it into small, more easily achievable pieces. Similarly to many known video games, the user browses a virtual world and completes small integration quests, and then follows a path with clear, step-by-step instructions in sceneries inspired by Finnish nature. The user may choose a pre-set micro journey or make a custom journey based on the goal they want to attain – those can be anything from finding friends to setting up a bank account, from finding a daycare spot to enrolling on a Finnish language course. The user may provide as much background information as they feel comfortable sharing, which AI can then use to help clarify and contextualise the journey for individual needs. Not so difficult after all!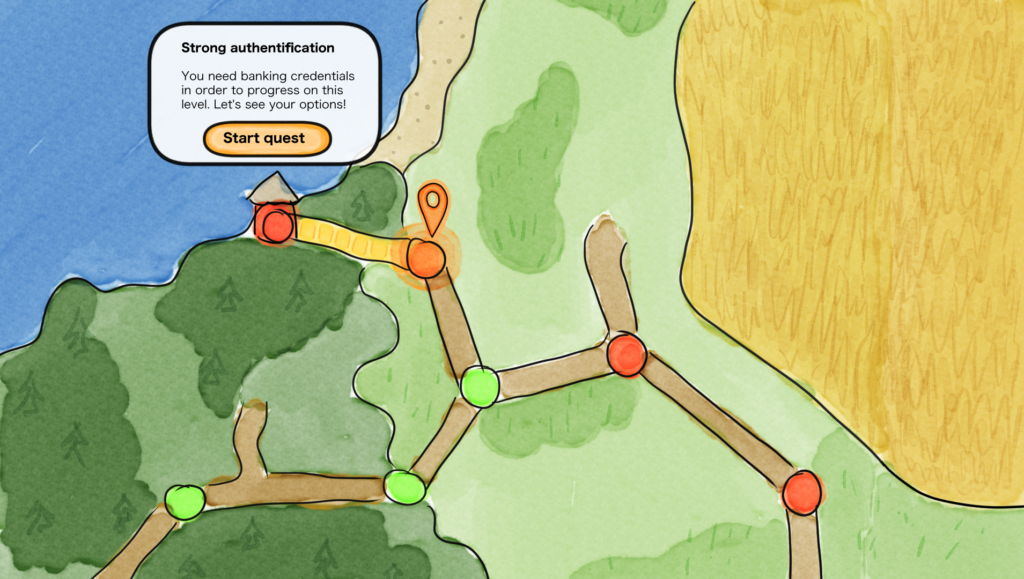 Finland – Integration gallery
Walk through a room and get all the info you need at once? Yes please! In our second concept, users can gather and find information on different aspects of integration in their dedicated rooms in a hybrid exhibition space. Visitors can chat with each other either virtually or face-to-face, finding support, new connections and exchanging tips with their peers. The gallery is permanently in virtual form, but can equally be organised as a physical exhibition at a central location in any city, such as libraries. This approach would enable setting up rooms in different ways, such as according to themes, needs or approaches to services. In addition, some rooms could be set up together with stakeholders. The most important thing is that the rooms represent essential steps in the integration process, and provide information on how to proceed.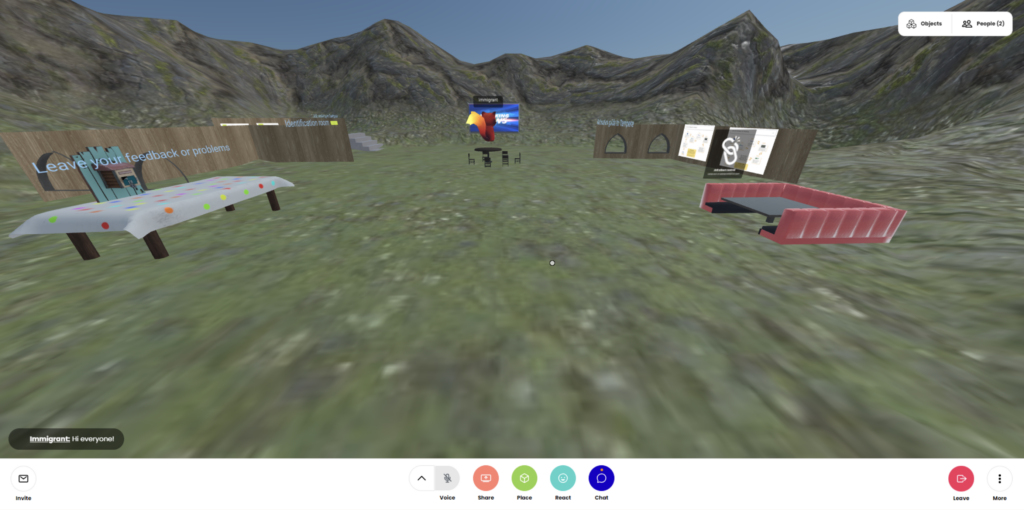 ---
Research behind the concepts
No good concept comes out of thin air. Like all quality service design, especially one that aims to accommodate the needs of vulnerable groups, these provocations derive from human-centred research. Alongside a lot of reading and browsing (secondary research), we conducted two workshops – one for immigrants and one for the people who work with them – the insights of which we used to guide our creative thinking.
The Immigrant Workshop
The aim of the first workshop was to understand how immigrants view the service ecosystem in Tampere. In essence, we wanted to know: 1) how many of the public services provided for them are immigrants aware of, 2) how do they approach and categorise services and 3) what kind of service experiences have they had.
The activities of the immigrant workshop were built keeping our objective in mind. In the first part, we asked participants to name all the services related to their integration process that they knew and write them on post-it notes. These post-its were then categorised in whatever way the participants saw fit, with no predefined themes (affinity mapping). Next, participants could check "a cheat sheet" and see if their maps were missing any services that they had forgotten the name of. The sheet was a list of over 60 Tampere services that we had printed out from InfoFinland.fi, an official information portal provided by the city of Helsinki. After adding these services on their maps, participants moved on to the second part, in which they picked three most memorable services and described their experiences in words and drawings, and then shared their experiences with their peers one by one. In the final part, everyone took a look around the room at the maps created during the workshop and reflected on our findings together in group discussion.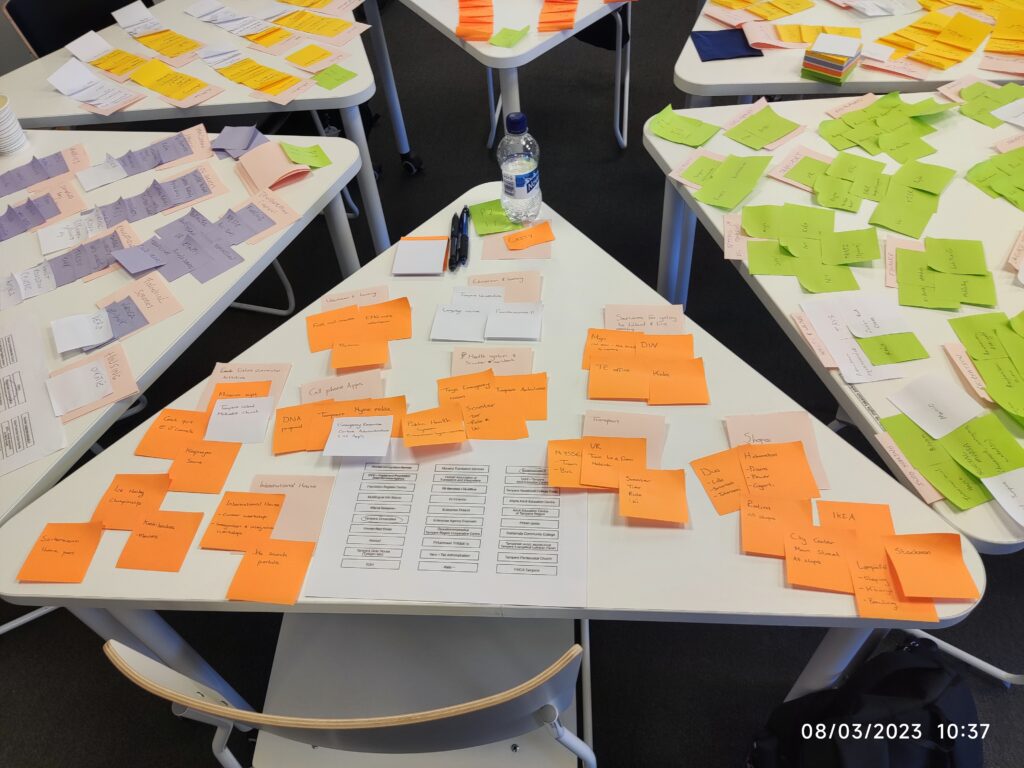 The Expert Workshop
The expert workshop was planned with a different approach: it was all about understanding how immigration experts approach the system, as their daily work is about navigating the middle ground between the system and migrants. Our aim was to harness their expertise to identify where information is blocked within the current system, and to help us refine and develop solutions that would fix this.
Another key objective of the expert workshop was to be able to share insights from immigrants to the people who work with them. For this aim, we created flip cards containing key insights from the previous workshop, which were used to stir discussion between experts in the first activity. Focusing more heavily on the information system, we came up with a way to demonstrate the barriers in the flow of information between three levels: the user level (immigrant), middle level (experts) and the top level (service systems, government, law). Finally, we ideated new solutions that would simultaneously tackle as many mentioned pain points as possible. This was equally an opportunity to discuss our initial concept ideas with the experts and gain validation or new directions for their development.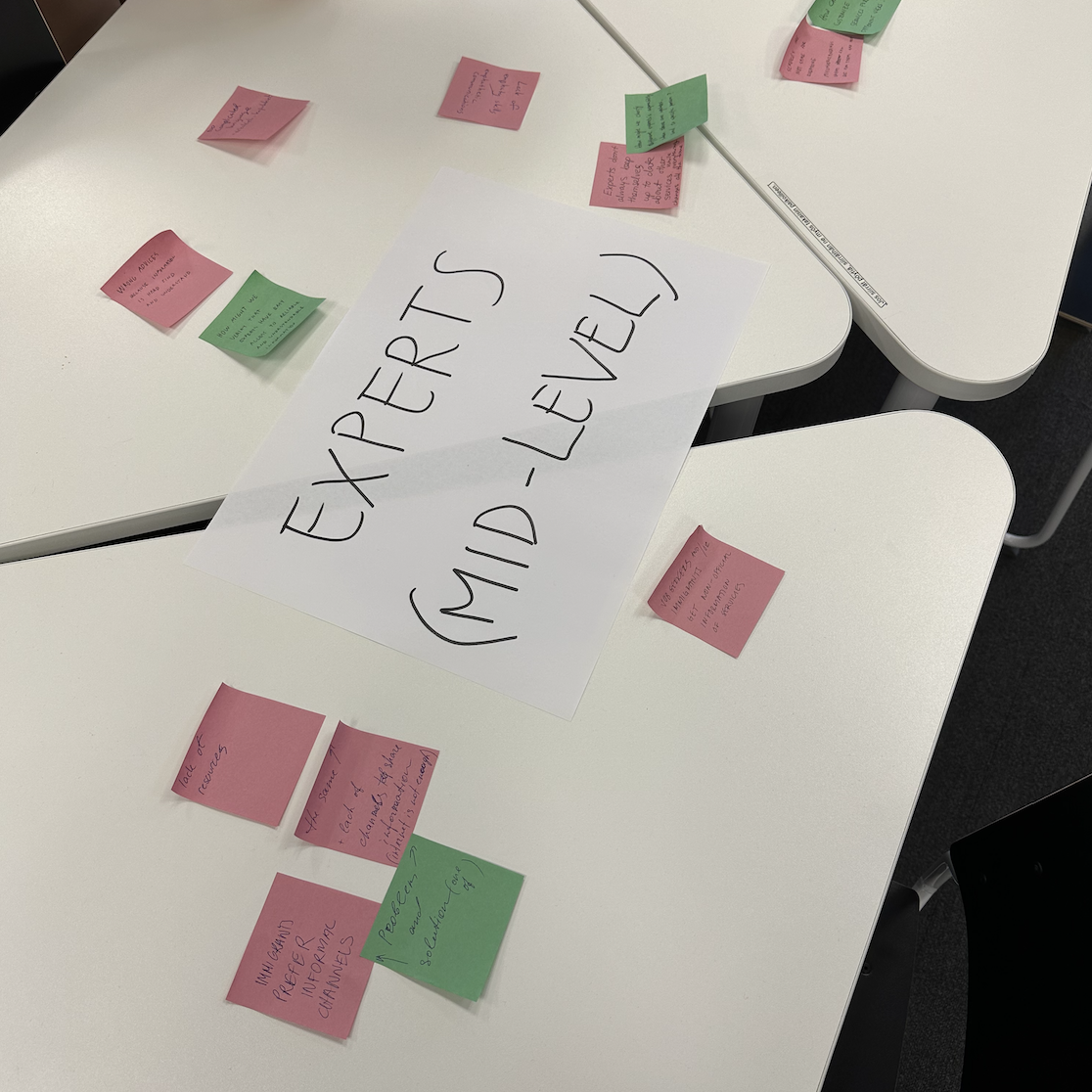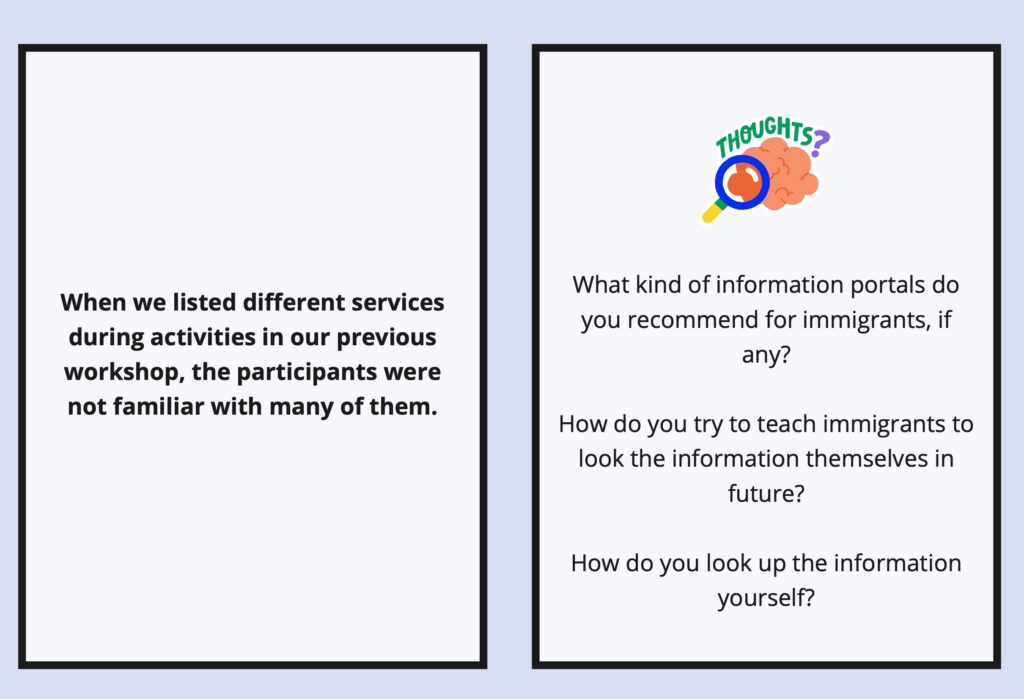 ---
Our main research takeaways from the workshops
Immigrants have different approaches to accessing and using services, as well as categorising them, which can differ from the current system design. We identified nine different ways that immigrants use to categorise services provided for them, some of which were surprising to us. For example, some services might only be discovered causally, e.g. after having an accident.
The service ecosystem is so dynamic and altered by changing laws that even experts have difficulties in keeping track of the latest changes. This increases the probability for immigrants to receive inadequate, vague or conflicting information and advice regarding public services.
There is a lack of transparency to the Finnish service system as a whole as well as the individual steps and smaller processes a person has to complete to further their integration.
The scope of one's own agency as an individual is unclear, both on immigrant and state official's ends. For example, in order not to overstep the legal boundaries of their role, service advisors give direct service recommendations cautiously, which may hinder the effectiveness of advice.
In order to proceed efficiently with the integration process, some steps require prioritisation and more effort than others, especially in the first months. For example, in Finland, proceeding with many matters is difficult without a bank account and strong identification credentials.
Find more detailed insights in our project report below!
Future directions
The two concepts we have come up with have many interesting potentials for further development. For instance, the levels and micro journeys of Walk in the Park could be made ultra customisable with the help of AI through different levels of personal data input. Integration Gallery, in turn, could open ways to collaborate with informal channels, like forums and migrant communities, in which advice and tacit knowledge is shared. In both concepts, the accessibility of information should be a priority, which is why we would set plain language as a default for easier understanding and have considered low-tech alternatives to accommodate the needs of different demographics. On the other hand, both concepts give room for leveraging virtual reality in public services.
This being said, we see that, when designing for immigrants from various backgrounds, creating trust through design is key: besides technical aspects like information security, this entails taking into account the psychological and emotional experience of using services – especially offering clarity and predictability, and predicting and mitigating letdowns. Ultimately, we hope that our exploratory design work has shown an example of how public services could be thought of and raises discussion on novel approaches for facilitating immigrant integration in Finland.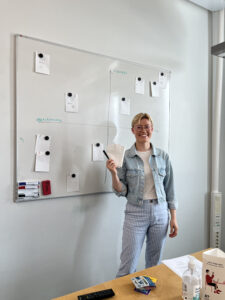 What did we learn?
In just two short months, we learned many lessons regarding design, research, facilitation of workshops, teamwork and project management. On one hand, being well prepared is halfway done, but on the other, one can never anticipate everything – such as the fire alarm going off in the middle of a workshop and the whole building being evacuated! This is why a designer should always be prepared to improvise.
It is equally important to know when to change course. Initially, we had aimed at creating an information retrieval tool that would facilitate conversation between immigrants and service providers by visualising the services offered by the city. The experiences we heard from immigrants made us rethink and shift our focus to a more expedient one, even when it meant less time for finalisation, yielding more meaningful results.
I personally found that, even though each of us have very different backgrounds and know-how, everyone's skills are not only applicable, but seem to be urgently needed in the IT field – this is true especially regarding "softer skills" that don't always get the recognition they deserve. This realisation has been important for me, because I have recently made quite a career leap from journalism to design and often look at things from a slightly different angle. After all, a multidisciplinary approach is crucial when envisioning better future services, which is why many different types of expertise are needed. Trust your gut!
---
The two-month project took place in the summer of 2023 in Tampere University. Sofia Kasari joined the Trust-M Tampere Design Team together with Anfang Liu, Tim Sowa and Ville Minkkinen – students in Sustainable Digital Life and Human-Computer Interaction – guided by Design researchers Amir Pakpour and Rūta Šerpytytė.